Simmzys
The Bike Path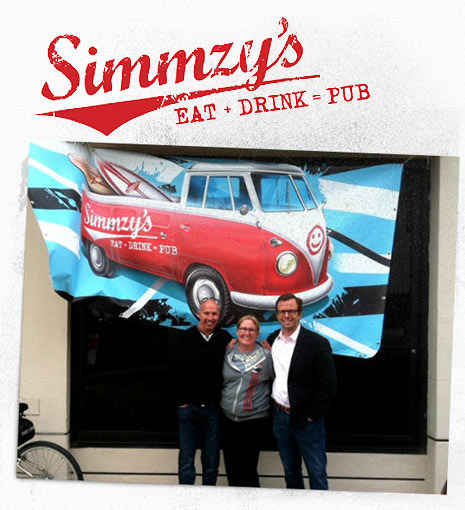 Friendship, loyalty, support, great ambiance, laughs, are only a few words that describe what working at Simmzy's is about. Above all, it's about family. It isn't hard to leave home when you know you're leaving one family just to come to another one. Bienvenido ala familia Simmzy's" Jhon Super-Star-&-Server @ Simmzy's MB
We are a fun and energetic team. All for one, and one for all!" Manny, Runner-&-Star Soccer Player @ Tin Roof Bistro
I will do whatever it takes to make Simmzy's our guests' favorite hangout." - Mike Simms
Our staff members are the lifeblood of the restaurant. They give it a heartbeat, a pulse. They bring it to life and make it live. Without them, we don't exist" Arthur J. Simms
4 CORE VALUES
Because there are 4 core ingredients in beer, it is only fitting that we should choose 4 core values for our company. It is the wise man who refrains from messing up the perfect recipe.
#1 People First
(from the guest, to the person who takes out the garbage) (people achieve more by working in groups = teamwork) (if you want to learn, you will grow with us)
#2 Serious Passion
love FOOD
live SERVICE
drink fermented beverages with FERVOR
learn something new everyday
#3 Positive Energy
picture of mood swings with red "no" stamp through
making money and having fun are not mutually exclusive
The difference between can and cannot are only three letters. Three letters that determine your life's direction.
Our Service Mantra: Be friendly and smile… or you're fired!
#4 Deliver What We Promise
stretch this one step further: over–deliver & exceed expectations
what we do and what we say are in sync
take responsibility
do the right thing even when no one else is looking
THE PROMISE
Our Promise to you:
Simmzy's promises to be guided by its Four Core Values even as we change and grow.
Simmzy's promises to provide you with the training, tools & support you need to be successful in your work here.
Simmzy's promises to provide a fun work environment, that is structured, organized, fair and transparent.
Simmzy's promises to provide growth opportunities for all team members who prove themselves.
And since this is a two-way street...
Your Promise to Us:
I will bring my best self to work as scheduled.
I will make every effort to integrate the Simmzy's Four Core Values into my worklife.
I will keep in mind that creating fun is sometimes hard work.
If this sounds like a great fit for you, please searc for our current openings